Kids Grow Up
« Older Musical Saw Festival in Israel | Luck of the Irish Newer »
On the train, on my way to playing in the subway, the mute lady who walks the trains was handing out little sign language cards. She greeted me 'hello' in pantomime. She really is mute. I don't know if she is also deaf. Very nice lady.
Nobody was at the Music Under New York spot at the 14th street subway station.
I could hear the old Chinese lady beating on her two-tone percussion instrument somewhere in the station. She's from Beijing. She and her husband came to NYC to visit their daughter. They don't speak English and can't afford to live here so they will return to China next month. She is 75 years old. The instrument she plays is called "Bangzi". Nengneng (a film student who speaks Chinese) asked her if it isn't boring to play two notes over and over, but she said it isn't. Nengneng said the lady was also singing quietly.
A guy I used to see at this spot every day stopped to tell me he graduated from school, which is why he doesn't walk by this spot anymore. He now works for a celebrity PR company.
Over the years playing in the subway I see kids grow up and adults grow old.
Arnold, the messenger guy, told me he is going home to South Carolina tonight. He'll be driving there with his two brothers and he'll stay there for a week. His grandmother owns 300 acres near Columbia. They used to have a huge garden, but now it's mostly overgrown.
Another guy I see often told me his name is Ramon. He is a messenger, which is why he sees me all over the subway.

Photographer: © Aaron Porter
A girl who goes to college upstate NY told me she wants to play the musical saw in the subway. She asked me if she needs a permit. I explained that technically she can play without a permit, but that when I did that I got a ticket of $150 because the police considered the teeth of my saw to be a weapon… The girl agreed with me that it is safer to play with a permit.
A guy asked me to play the theme from 'Star Trek' – he said he heard me play it two months ago.
Saw joke of the day:
A guy pointed at me and said "I SAW you"
While a lady was buying my CD another lady came up from the uptown train platform. The 2nd lady complained to me: "I missed my train because I wanted to hear you play but you're not playing. Why are you not playing?!"
I pointed out that there is a lady buying my CD and talking with me at the moment.
2nd lady: "I want to hear you play! (To the 1st lady) Come on, you're slow!"
1st lady: "I'm buying her CD!"
2nd lady: "You're taking up her time."
1st lady: "I'm buying her CD, what are you doing for her?!"
A human statue lady stood by the wall near the elevator. She didn't seem to be doing too well and she left after about an hour.
Kate, who goes to "my" church (where I ring handbells) exclaimed upon seeing me: "you're EVERYWHERE!" after seeing me also two days ago at the 59th street and Lexington subway station.
Theo Eastwind (singer/songwriter who plays guitar and sings in the subway) came by. He overslept, thus missed his spot in the subway this morning
At 2:30 Delta Dave showed up, early, for his permitted time slot. He asked me if I would watch over his stuff while he left to run some errand. He was smartly dressed in a nice suit and tie, with a black hat.
Geo, the guitar player, stopped to say 'hi'. He was looking for a spot to play, but now it was getting too late – he has a guitar student he has to teach at 5, so he doesn't have enough time to busk.
Baby Soda were also looking for a spot to busk.
Coin of the day: Somebody put a 5 cent coin from Bermuda in my donations bucket. It's from 1986 and has a picture of a fish on it. I love it when I get foreign coins.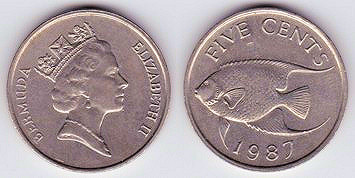 Blackwolf, the central Park wizard, passed by. He said he might go to Central Park tomorrow to "give people a preview of the summer".
Delta Dave returned at 3pm. I helped him hang up his banner (Delta sits in a wheel chair).