Buskers – local and from far away
« Older What is This Food Called? | School Kids Comment Newer »
When I got to the Music Under New York spot at the Times Square subway station it was 11:45am and Salieu Suso was playing the kora there. The kora is an African musical instrument made of a gourd and a neck which supports 21 strings. Salieu is from Gambia but he's been in New York on and off for about 8 years now. He was inspired to audition for the Music Under New York program by his friend who also plays kora and is in the program.
Salieu told me that he got up at 5am today and played at the Times Square spot from 8am until now. Now he was going back home to the Bronx, to rest.
While I was waiting for him to finish his set Lydia from Arts for Transit (the MTA program that runs Music Under New York) walked by – she was supervising a new art installation on the wall at the other side of the station.
I told her that I like the new video art installation at the Union Square subway station – it looks like water and when people walk by it their motion creates waves. To my surprize Lydia told me that that is not an art installation, but an ad! the text of the ad will be added later.
At 12:05 the missionary people arrived with their long tables and set up by the wall to the left of our spot. By now they recognize me, so they nodded 'hello'.
At 12:20 the steel drummer greeted me on his way to his usual spot on the 1/2/3/9 trains platform.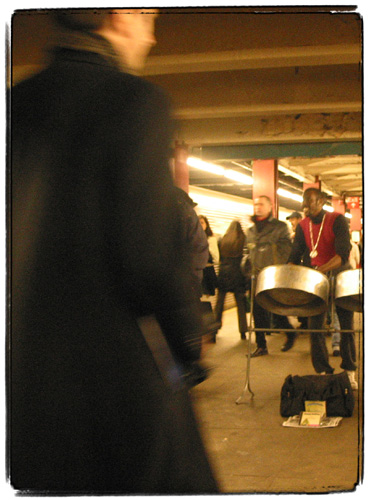 At 12:25 Frankie, the guitar player/singer stopped to chat. He told me he was playing at the 59th street subway station since 10am but needed to go to the bathroom…so he came to Times Square (the only station with a public toilet).
At 12:30 a guy carrying luggage stopped to listen to my rendition of 'The Sound of Music'. I noticed he was followed by a lady writing in a pad and a photographer. I asked the guy if that was a musical instrument in his case and he said it's a violin. He told me that he is traveling the world since June, busking. He busked in many countries on all continents. I asked him if he was going to busk in New York City and he said that he is. He asked me for tips about playing in the subway. He then gave me his CD and walked towards the 1/2/3/ trains. It turned out his name is David Juritz. He is the concertmaster of the London Mozart Players and guest leader of the London Philharmonic and Royal Philharmonic Orchestras. He is touring the world as a busker to raise money for Musequality, the charity he founded to bring music education to poor children. He told me that he is going back home to England in a few days – NYC is the last place on his busking tour. He managed to raise $50,000 for the charity (not only from busking – he did concerts and charity events, too). Another interesting thing he did was auction a private concert on Ebay. What a cool guy he is – I am so honored I got to meet him in person.
At 12:35 Frankie went to the 'N' train platform to play. He wanted to play on the'1′ train platform, but there was a Spanish violinist on one side and the steel drummer on the other.
Many musicians were looking for a spot at this time: three (!) different duos of Andean musicians and also a group of hip-hop dancers all went by me on their search for a vacant spot to busk at. Lawrence Rush, the singer, stopped to sing along with me for a little bit.
At 12:45 a lady stood behind me for a while. It turned out it was the lady who enjoys looking at the astonished facial expressions of people who discover me for the first time.
Matt, the base player who played with me at the Confess/Confuse opera production about a year ago walked by carrying his large base. He took off his sun-glasses in order to show me that it was him.
At 1:55 the steel drummer took a break for lunch. Him and I know each other for many years. There was a time we both used to play at 34th street.
Saw joke of the day:
A guy said: 'If your saw has a handle, I can see how you can "carry a tune!" '
Blackwolf, the Central Park Wizard, was on his way to see the 'Naked Cowboy' upstairs. He told me he will be doing two Halloween parades this month and he also got a Santa Clause gig coming. I told him I will be the saw playing witch at the Central Park Halloween event again this year to which Blackwolf said "why am I not surprised?" to which I said "because you know me for many years!".
Yaz, the saxophone player, showed up with his band for their 3pm permit at the spot.
As I got into the elevator leading to the platform to catch my train home the Gimagua twins (who play rhumba-flamenco guitar) came out of it on their way to their spot. They were just starting their day, while I was finishing mine.