Music Under New York Audition 2009
« Older The Smell of Baked Goods | The Busker Newer »
Yesterday I was at the annual Music Under New York audition – the audition for performers who want to get permits to play in the NYC subway. Having passed that audition myself many years ago I can identify with the musicians flocking the audition.
This year 270 musicians, dancers and living statues submitted an application to audition. 60 performers were chosen to audition live. About 10% of the musicians who submitted an application form pass the audition.
The audition opened at 9:30am with Nicola, a MUNY musician, singing the National Anthem.
A panel of judges comprised of music professionals, fellow MUNY musicians, and MTA personnel took their seats along tables facing the stage.
The first to audition was Yukari Roja, singing in Japanese and accompanying herself on guitar.
She was followed by 'The Lost Chord' – a lady on bass, two guys on guitar and a guy on small trumpet playing 1920-30 traditional American tunes. These guys used to freelance in the subway along the 'F' train line. They also told me that years ago they toured Maine and were joined by a local musical saw player.
Singer Natalia Gelman, accompanying herself on guitar, was next. She told me it was her 2nd audition for MUNY. She has been freelancing in the subway since the last audition.
Paul Zutrau played the renaissance lute, followed by long time subway musician Mickey Kramer who plays traditional American Indian flute. He has a lot of subway experience.
Theresa Barber-Shaw, the British 'Living Statue', was the only living statue at the audition. She was painted all in white, wearing a white ballerina outfit. She is a long time busker, too, freelancing both in the subway and at Central Park.
Alex Mitchell played the electric violin with lots of equipment at his feet (all sorts of effect pedals).
MysterE, a progressive hip-hop singer who came with his manager, was in a bind – his friend who was supposed to bring him his PA system didn't show up… He looked around to see if any of the other musicians would lend him their amp, and somebody was kind enough to do that.
Zong Li Lu, wearing a beautiful red Chinese jacket, played Chinese music on an instrument called du xuan gin.
The Demain Richardson Quartet, lead by David Miller, played Jazz/dance improvisations on trumpet, saxophone, snare drum & cymbals and bass.

Bob Holman MCed the audition
Trevor Exter, the cello player who also sings and was with me on the MSG TV show, didn't showed up for his audition…
Stephanie Winters, a classical cello player, was next.
Albert Deluca played old timey music on Dobro. He has been playing for 54 years. He started playing guitar when he was 6 years old, and moved on to the Dobro because guitar playing broke his fingernails.
Brian Sizensky played folk-rock, followed by the 'Freelance Whales' – four guys and one girl on banjo, guitar, big drum, glockenspiel and harmonium. The harmonium player said that he went all the way to India to get it.
Thalys Quarefem played brazilian guitar, followed by Tchin who was dresses as an American Indian with a beautiful head dress and played Native American nose flute.
Arlene Gottfried sang along with a karaoke machine.
Tom Swafford played original music – a medley of tango and old time fiddle on violin.
Margarita Shamrakov arrived with a huge electric keyboard.
Jeronimo Hernandez from Mexico, who played Latin American guitar and sang.
Trio Cosmopolite were two ladies on violin and one on cello.
Johnny shepard and Billy Swing were a country swing band consisting of three guys and a girl playing violin, guitar, bass, snare drum & symbol.
Jinn Christou is originally from Florida but spent the past 10 years busking around the world. She plays a keyboard which sits atop a laptop hidden behind a purple cloth.
Jian Wei Han sang opera with a karaoke machine.
House of Waters, lead by Max Zbiral-Teller, were three guys playing world music on dulcimer, guitar, beatbox and cymbol.
'The Crowd' were two guys and a girl playing beat-box guitar and doing vocals.
Najib Bahri told me his name means 'serious ocean' in his native Tunisia. He is from Chicago but has been busking all over, including 2 weeks in Paris. We shared busking memories from that city. Najib plays North African percussion.
'The Blue vipers' lead by Christopher Pistorino were 5 guys on clarinet, bass, trumpet, washboard and guitar. They all sang, too.
'Taharga + New Lewi' were two guys, one playing guitar, the other singing rap style funk/soul.
'Shakey Green & The Big Caboose' were a classic country, blues and swing duo, and Tsunekazu Aoki from Japan was the last one before the lunch break with his melodica playing.
The first to audition after lunch were 'The Beeps', lead by Juan buccella, who played latin/bossa jazz, followed by Vicki Genfan – a singer who accompanies herself on guitar. She tried busking once before.
The Xylopholks have been a fixture in the subway for a few months now. They attract attention by wearing funny furry costumes: the lady playing bass wears a pink monkey suit, the guy on xylophone wears a skunk costume and the percussionist dresses as a baboon.
They were followed by Geovanni Guido on guitar.
The 'Three Kats' turned out to be only 2 musicians (their 3rd didn't show…) playing latin/funk/jazz on keyboard and sax.
Mamalama were three musicians on harp, ballaphone and violin, with some of them also singing.
Meryl Leppard, a singer with an Australian accent, sang, accompanying herself on a large keyboard.
The 'True Steps' is a soul trio of singer, guitar and drum-set.
The 'big Apple Boys' were a barbershop chorus of 8 men, all dressed in black shirts.
Matt Beilis who sings while playing piano was debating whether to play a standard or an original song.

The 'Brown rice Family' played world roots music on sax, guitar, mandolin and drums, followed by the 5 piece 'Michael Packer blues Band'.
Then came Remy Francois, the singer from Haiti, who always dresses in a tail coat and ruffled shirt. We've met in the subway many times as he has been freelancing for a few years. He sings both in English and in French.
The Django Experiment were a 4 piece French Gypsy world music band with a xylophone, two guitars and bass. They were followed by Samatha Margulies – an opera/Broadway singer.
'Blackwood' were an acoustic rock/pop duo who were concerned they are the only non amplified performers there.
'Story Ship' are a 4 piece band of guitar, accordion, bass and drums, who have been freelancing in the subway and Central Park for a while. I've seen them on the 14th street platform. They do cover songs.
Cheri Lafever is a harpist who has been freelancing in the subway – mostly at 42nd and 59th streets on the west side. She was followed by long time subway busker Curtis Jardine on steel drums. I've been seeing him in the subway forever.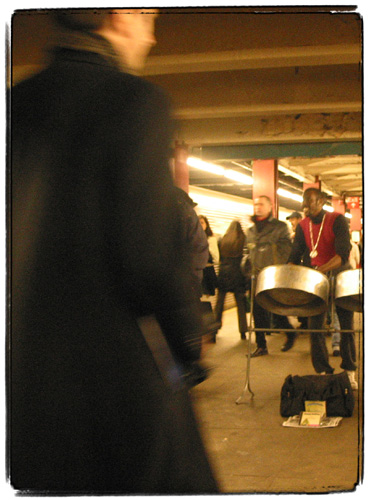 'Brothers Moving' played in the subway last year then went back to Denmark and are now back in NYC. They were working on getting their papers so that they could return here.
Raine Hilai was a musical theater vocalist.
'The Bridge' were two guys and two ladies, singing jazz to tracks. They recorded their CD at the recording studio of long time subway busker Luke Ryan. Small world.
Huei & The Sunshine Chowderheads were three jazz performers.
Flamenco Y Sol was a lady dancer accompanied by a singing guitar player.
Nazario Brea sang "New York, New York" with tracks.
Maxidekalu were a 5 piece African music group who came from upstate NY. They played guitars and african instruments.
Ed Levy played jazz guitar. The audition ended with the gospel acapela group 'Made Over'. One of the three members, Barry Reid, has been singing in the subway with another group for a long time.
The audition boasted high musicianship and a variety of interesting soloists and groups who could make an exceptional contribution to the culture of our city.